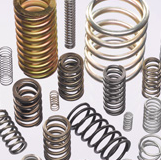 Compression springs
Typology: compression springs cylindrical, conical and hourglass, with constant or variable pitch, in round wire, in square or rectangular section. Both in small (tens of pieces), and large series (million pieces). 


Measurement: springs in round wire from 0.1 mm to 5.0 mm (small and medium series till 10 mm). 

Materials: currently the following materials are being used: 
Carbon steel wire of classification: SL, SM, SH, DH according to norm EN 10270-1, also in pregalvanised and Bezinal®
Oil pretempered steel wire FD, TD, VD SiCr according to norm EN 10270-2.
Inox steel wire of types 1.4310, 1.4310 HS, 1.4568, 1.4404 according to the EN 10270-3 and of types 1.4301, 1.4539 according to norm EN 10088-3.
Copper alloys: phosphorous brass and bronze according to norm EN 12166.
Annual production capacity: 100 milion pieces. 

For all of our products, on demand from our clients, we are able to supply treatments for the protection of surfaces, as a result of our vast network of reliable suppliers such as:
Epoxide coatings.
Cataphorised coatings.
Zintek® coatings.
Geomet 320®, Magni 565® and all products by Magni, Deltatone®.
White and yellow trivalent galvanisation (free from Cr VI)
Phosphated to zinc, to calcium.
Passivation.
Aesthetic nickel and chrome platings, thick chrome, hard chrome, chemical nickel, gold, silver, brass, copper.
Teflon coating.
We are also able to carry out internally stress relieving heat treatment, shot peening and oiling.