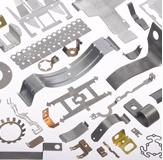 Blank strips
Typology: sheared and formed blanks using progressive dies on presses. The molds are of our own design and manufacture, having our own house in a department of tooling. We can supply both in small (tens of parts for prototypes and samples), and large series (million pieces).

Measurement: items of thicknesses from 0.10 mm to 6.00 mm. 

Materials: currently the following materials are being used: 
Carbon steel wire of classification: +A, +CR and +LC according to norm EN 10132-4
Inox steel wire of types 1.4310, 1.4310 HS, 1.4568, 1.4306 according to norm EN 10151 and of type 1.4016 according to norm EN 10088-3, duplex steels
Iron (with low carbon content) according to norms EN 10130, EN 10131, EN 10277-2, EN 10139 and EN 10111.
Copper alloys: Cu-Be, phosphorous brass and bronze according to norm EN 1652
Annual production capacity: 10 million pieces. 

For all of our products, on demand from our clients, we are able to supply treatments for the protection of surfaces, thanks to our vast network of reliable suppliers such as:
Epoxide coatings.
Cataphorised coatings.
Zintek® coatings.
Geomet 320®, Magni 565® and all products by Magni, Deltatone®.
White and yellow trivalent galvanisation (free from Cr VI)
Phosphated to zinc, to calcium.
Passivation.
Aesthetic nickel and chrome platings, thick chrome, hard chrome, chemical nickel, gold, silver, brass, copper.
Teflon coating.
We are also able to carry out internally stress relieving heat treatment, shot peening and oiling, while we rely on our network of outside suppliers for the treatments of quenching (bainitic, martensitic), nitriding, carbo-nitriding.